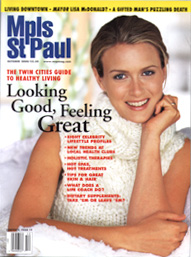 Strapless in St. Paul
by Rebbeca Lunna

In the steamy summer of 1998, Stephanie Heroff had had it up to her shoulders with peek-a-boo bra straps. Armed with an idea, a bra, and a tank top, she marched into her tailor, described a plan, and walked out a bra sewn into the tank, no straps showing and a shot at a patent.

"I wanted to meet with an attorney fast, because the one thing I knew about the garment business is that it's a world of knock-offs." Heroff recalls.

Spurred on by friends, family, the patent attorney and her own conviction, she plunged headfirst. "I met with more than one manufacturer who said it couldn't be done," Heroff says. But after several months of searching, she found L.A.'s Private Label Industries, which had that "can do" spirit.

Developing the idea into a garment took more than a year but Heroff has expanded from tanks into high fashion with the help of designer and partner Robin Monteith. Together, they're taking the concept forward into dresses and eveningwear but will keep tanks as the business's core.

At Heroff HQ which doubles as her Prospect Park apartment - with her newly minted patent in hand, the young entrepreneur is focusing her sights on a licensing deal. "I know there are millions of women who could use this product and licensing gives us the vehicle to reach them." If Heroff has her way, there won't be a bra strap in sight next summer. Get a sneak peek at www.heroff.com.